2014 Biotech Watchlist Portfolio Tracker
Welcome to The Life Sciences Report's 2014 Biotech Watchlist Portfolio Tracker. The Watchlist companies were selected by industry experts based on a variety of factors, including sound science, good management, therapy area and catalysts keyed to the drug development process. We will track the companies throughout the year: With our Portfolio Tracker, it is easy for Life Sciences Report readers to do the same.
Read the 2014 Biotech Watchlist Story

The Approval Process in Action Infographic

Check Out the Natural Resources Watchlist 2014 Portfolio Tracker

The chart below shows stock prices for the 12 companies on the 2014 Biotech Watchlist. The heavy green line shows the average gain/loss of the portfolio as a whole. Portfolio average change since Jan. 1, 2014, is 4%.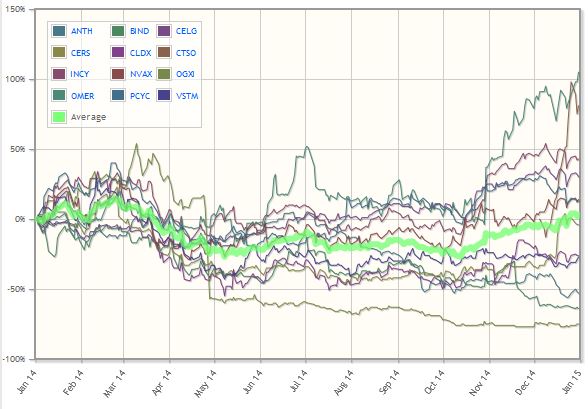 About These Individual Charts
The Yahoo finance charts provided below are updated in real time and show stock prices for each company for the year to date. Time spans for catalysts identified by Biotech Watchlist analysts are highlighted in green.
Focus: Inflammatory and autoimmune diseases including lupus

Compound: blisibimod

Why Anthera Made the Watchlist: Targeting niche indications, Anthera is considered a good addition to a healthy portfolio "basket."

Analyst's Take: "ANTH is one of the companies that investors need to buy a basket of, to diversify. There could be some very large upside."—John McCamant, Medical Technology Stock Letter



Focus: Cancer

Compounds: Accurins (targeted therapeutics developed using a nanoengineering platform)

Why BIND Made the Watchlist: Led by a "good team," data in two phase 2 trials for BIND-014 (prostate cancer and non-small cell lung cancer) is expected in H2/14.

Analyst's Take: "BIND is run by a team that has built and sold companies in specialty drug delivery in the past."—Mike King, JMP Securities



Focus: Cancer, immune system disease and inflammatory disease

Compounds: Revlimid (lenalidomide) for multiple myeloma; apremilast for rheumatoid and psoriatic arthritis; Pomalyst (pomalidomide) for multiple myeloma and myelofibrosis; Abraxane (paclitaxel protein-bound particles) for pancreatic cancer and melanoma

Why Celgene Made the Watchlist: The large-cap biotech has a deep pipeline and ongoing catalysts for a number of its compounds.

Analyst's Take: "It's scary to think about how big the CELG story could get."—Mike King, JMP Securities



Focus: Cancer treatments using monoclonal antibodies and immunotherapies

Compounds: Rindopepimut; CDX-011

Why Celldex Made the Watchlist: Rindopepimut, a peptide-based therapeutic vaccine for brain cancer, leads a strong pipeline that includes CDX-011, a breast cancer treatment.

Analyst's Take: "The bread-and-butter pipeline of CLDX's later-stage products to looks very compelling."—Mara Goldstein, Cantor Fitzgerald



Focus: Blood safety

Product: Intercept Blood System

Catalyst: FDA approval of its platelet and plasma pathogen inactivation technology

Why Cerus Made the Watchlist: An "organic growth play," Cerus is expected to reap the benefits of improving sales in Europe and an anticipated premarket approval in Q3/14, with a U.S. launch expected in Q4/14.

Analyst's Take: "CERS is an operating company that has cash flow. It should be profitable in a year or two, especially when the FDA approves its Intercept Blood System."—George Zavoico, H.C. Wainwright & Co.



Focus: Removal of toxins from the blood

Product: CytoSorb

Why CytoSorbents Made the Watchlist: The company's cytokine filtration system uses proprietary polymer bead technology to "purify" blood in the event of cytokine storm.

Analyst's Take: "CTSO is emerging with a new technology that represents out-of-the-box thinking in terms of trying to clear blood."—George Zavoico, H.C. Wainwright & Co.



Focus: Oncology and inflammation

Compound: Jakafi (ruxolitinib); approved for treatment of myelofibrosis

Why Inctye Made the Watchlist: In addition to Jakafi, a potential "blockbuster" in a clinical trial for pancreatic cancer, the company's pipeline includes IDO inhibitors, a promising cancer immunotherapy.

Analyst's Take: "INCY is a small molecule powerhouse with an approved cancer drug and one of the best small molecule pipelines in the industry."—John McCamant, Medical Technology Stock Letter



Focus: Seasonal and pandemic influenza; respiratory syncytial virus (RSV)

Product: Recombinant nanoparticle (VLP) vaccine platform

Why Novavax Made the Watchlist: The company's "game-changing" technology promises to produce pandemic flu-fighting vaccines in a short timeframe; phase 2 data is expected for its RSV vaccine candidate following scheduled study completion in April 2014.

Analyst's Take: "NVAX's RSV vaccine is potentially game-changing with minimal competition."—John McCamant, Medical Technology Stock Letter



Focus: Inflammation, coagulopathies and central nervous system disorders related to surgical procedures

Product: Omidria (OMS302); PharmacoSurgery platform

Catalyst: Approval and marketing of Omidria, expected later in 2014

Why Omeros Made the Watchlist: The company has a diverse platform that includes Omidria, intended to reduce inflammation during intraocular lens replacement surgery.

Analyst's Take: "OMER is under the radar; its lead compound, Omidria, could be used in millions of intraocular lens surgeries."—George Zavoico, H.C. Wainwright & Co.



Focus: Cancer

Compounds: Custirsen, apatorsen

Catalyst: Phase 3 trial results for custirsen due mid-2014

Why OncoGenex Made the Watchlist: Data from the company's phase 3 trial evaluating custirsen in addition to docetaxel in the treatment of metastatic castrate-resistant prostate cancer was expected.

Analyst's Take: "OGXI has a phase 3 milestone coming midyear in an important prostate cancer trial."—George Zavoico, H.C. Wainwright & Co.



Focus: Leukemias, lymphoma, other cancers

Product: Imbruvica (ibrutinib)

Why Pharmacyclics Made the Watchlist: With Imbruvica positioned for approval in additional blood cancer indications, including chronic lymphocytic leukemia, the company is expected to build on the drug's 2013 success.

Analyst's Take: "PCYC's Imbruvica is going to be the biggest drug in hematologic malignancy."—Mike King, JMP Securities



Focus: Cancer

Compounds: Cancer stem cell pathway inhibitors

Why Verastem Made the Watchlist: Interim data for the company's mesothelioma therapy is expected in Q1/14.

Analyst's Take: "VSTM has a very, very good technology foundation."—Mara Goldstein, Cantor Fitzgerald